ecome an AWS Network Specialist and pass the AWS Advanced Network Specialty Exam
(🚨🚨🚨🚨🚨 LAST UPDATE - JUL 2023 🚨🚨🚨🚨🚨 )
The AWS Certified Advanced Networking Specialty is one of the most difficult, valuable and in-demand cloud certifications available. All larger businesses need professions who're capable of designing secure, performant and scalable networks which can integrate with existing, potentially complex enterprise networks.
The exam requires you to be able to do all of this, under pressure, within complex scenario based questions.
Far fewer people are able to obtain this super-valuable certification, but by enrolling in this course I'm going to teach you how to easily overcome the challenging exam and even more importantly help you gain the skills required to become an AWS Networking Specialist. Don't be scared, if you're willing to put in the effort I'll be here to help you every step of the way!!!!
SUITABLE FOR
Anyone who holds the AWS Certified Solutions Architect - Associate Certification
The process will be easier with some existing networking or SA PRO level knowledge
This isn't required - the course covers fundamentals onwards.
Experienced Engineers or Consultants
REQUIREMENTS
Existing Associate Level AWS knowledge
Laptop or Workstation to perform the demo lessons
An email address and credit/debit card for the AWS account(s)
Max $10-20 or so per month of studies (where possible, the course will use free-tier, but there will be AWS costs for DEMO lessons)
WHAT MAKES THIS COURSE DIFFERENT
PRODUCTION VALUES: The course includes best of class theory, architecture and practical demo lessons. Everything in the course is there for a reason, is produced to a high standard and aids in your learning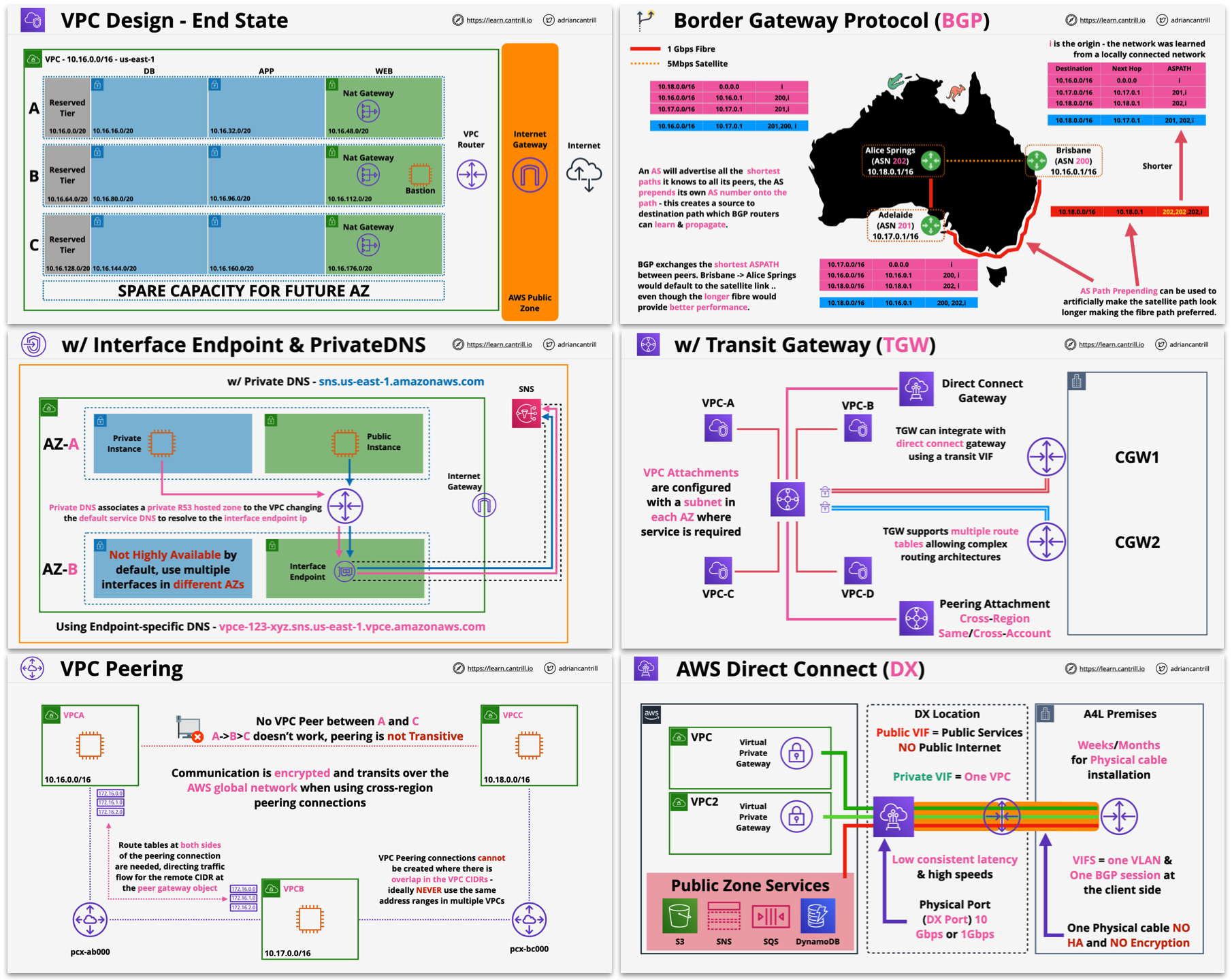 ALWAYS CONSIDERS COST: The course starts with by helping you create and setup AWS accounts which you will use for your study. These will benefit from the free-tier giving you free access to AWS products and services up to a certain monthly level.
LEARN REAL SKILLS: This course isn't just about the exam, the AWS Certified Advanced Networking Specialty is one of the most valuable certifications available in IT - but obtaining $100,000+ cloud positions will require experience as well as accreditation. By the end of the course, you'll be prepared to pass the exam confidently while also having gained enough experience to implement networks within AWS day to day.
SCENARIO BASED: The course is based around a real-world like scenarios. The theory and demo & advanced demo lessons are structured around scenarios which you'll encounter in the real world.
RESPECTS YOUR TIME: I promise to respect your time. Everything in the course is either relevant to the exam, or will provide the surrounding knowledge which will help you pass with confidence; while also gaining the practical experience needed to get access to exciting job opportunities. Lessons are never more than 20 minutes and often much shorter - I prioritize efficiency, not duration. Each section includes a quiz helping you retain knowledge, and at the end of the course, we've designed a full practice exam which mirrors real-world conditions.
ADVANCED AWS NETWORKING : The course covers advanced networking concepts as they relate to AWS but also covers the extended AWS product range which features on the Advanced Networking exam in some depth. Topics covered include:-
Networking Fundamentals (OSI 7-Layer Model, IP Addressing & Routing, NAT, DDOS)
AWS Core Networking
AWS Hybrid Networking
Advanced Hybrid Networking
Network Performance Optimisation
Network Security
Network Availability
Network Fault-Finding
& much much more.
ALWAYS ACCURATE/ALWAYS UP TO DATE: I pride accuracy and so commit to keeping the content up to date with regular updates as AWS announces new products or features. Updates will be included in your one-time course purchase so you can study at your own pace.
By the end of this course, you'll be able to confidently pass the specialty-level AWS Certified Advanced Networking exam and start getting access to some of the best paying careers in the industry.
COURSE OUTCOMES
Be ready to sit and pass the Advanced Networking Specialty exam with confidence
Confidence in technical interviews for advanced networking roles
Be able to design local, global, elastic network architectures in AWS that are secure, cost-effective, resilient, efficient and adhere to AWS best practices.
Understanding and appreciation for technical fundamentals which AWS products and services rely on
Practical experience of:-
Building complex networks in AWS
Design high-performance and resilient networks in AWS
Level up your career in terms of $ and project opportunities
Advanced knowledge to tackle the more difficult specialty level exams
BY THE NUMBERS
Created and taught by an experienced instructor
100,000's of students across a total of 8 previous AWS Courses
Instructor rating of over 99.5%.
20 years+ of Consultancy experience
40+ IT certifications, including all current AWS ones
Professional level production values, excellent quality, high-end audio, clear accent and vibrant visuals throughout.
All learning aids and demo lesson assets available for download at any time